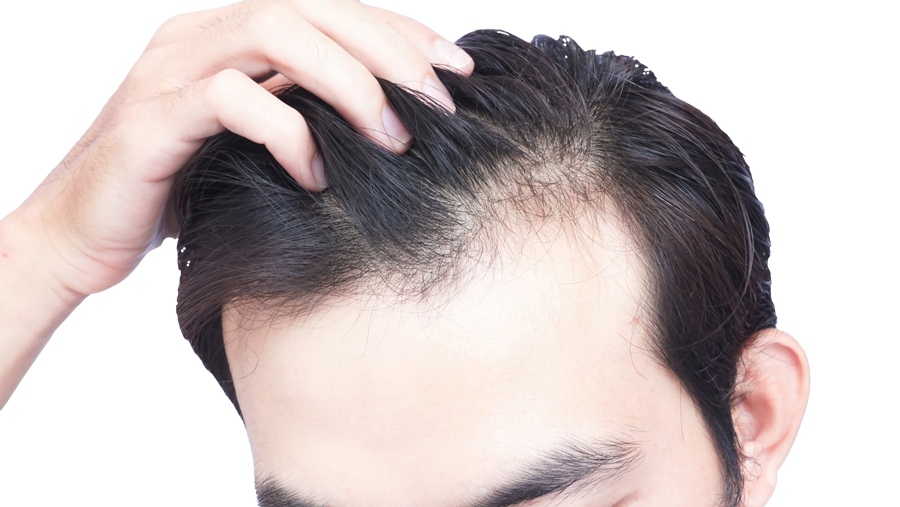 FREQUENTLY ASKED QUESTIONS
WHAT IS AQ GFIT?
AQ GFIT Hair is an effective hair growth treatment for male/female-pattern baldness. It stimulates hair growth and promotes hair restoration. After aesthetic procedures, such as laser therapy or micro needling, the scalp may require post-treatment care to optimize healing and results. This is where AQ GFIT Hair comes in. With its growth factor-induced therapy, it promotes hair growth and strengthens the hair follicles, leading to fuller, healthier hair. With regular use, AQ GFIT Hair can help reverse hair loss and restore confidence.
GFIT HAIR RESTORATION
AQ GFIT Hair Restoration is an effective hair loss treatment that restores healthy hair growth cycles, activates dormant hair follicles, and improves scalp health, leading to fuller and thicker hair. Whether you suffer from male or female-pattern baldness, AQ GFIT Hair Restoration can help reverse hair loss and restore your confidence. By promoting hair growth and strengthening hair follicles, the AQ GFIT Hair Restoration treatment ensures optimum scalp health and beautiful, luscious locks.
ABOUT HAIR GROWTH FACTORS
AQ GFIT Hair is a hair loss treatment that utilizes growth factors to stimulate hair growth and improve scalp health. Growth factors are proteins that naturally occur in the body and play a vital role in promoting cellular differentiation and division. Unfortunately, their production decreases with age, illness, and lifestyle factors.
With AQ Skin Solutions Growth Factors, however, patients can regenerate their hair to its highest genetic potential by using a combination of 150 to 200 different growth factor families in the correct percentages. This specific formula is designed to target skin rejuvenation, hair restoration, and even vaginal health/rejuvenation. With AQ GFIT Hair, patients can enjoy fuller, thicker hair and improved scalp health
Hair Loss & Male/Female-Pattern Baldness Causes
Male or female-pattern baldness can be caused by a build-up of hormones and loss of nutrients, which harden and thin the follicle, leading to the shrinking and thinning of the hair shaft. As a result, the scalp becomes exposed, and hair loss spreads. Fortunately, hair restoration is possible with AQ GFIT Hair, a proven hair loss treatment that stimulates hair growth and prevents further loss. Even when hair follicles are in a dormant state, AQ GFIT Hair can help prevent and reverse hair loss. Don't let hair loss hold you back – try AQ GFIT Hair today for fuller, healthier hair growth.
Read More
Hair loss after pregnancy
Male and female pattern baldness
Traction alopecia
Read More
Factors influencing hair loss:
Genetics
Hormonal changes
Stress
Illness
Auto-immune disease
Certain drugs
Malnutrition
Environmental factors
Read More
Improved hair quality by improving and restoring the health of each hair follicle
Improved hair quantity
Improved hair texture
Improved and healthy growth cycles
FREQUENTLY ASKED QUESTIONS
What happens during the consultation?
Before your treatment, we will do a full medical history and consultation to confirm suitability for the treatment. You will be asked to sign a consent form and complete a consultation form and tick list. The procedure will be explained to you. During this time, you are welcome to ask any questions you may have. You will be provided with verbal or written aftercare instructions. We will make a recommendation for home care to further enhance your results.
What does the treatment entail?
A-Derma Stamp is a handheld stamp device with 140 tiny needles to penetrate the skin of your scalp at a precise level on bald/balding areas. This creates micro-injuries that trigger your skin's self-healing process into creating new collagen and restoring damaged skin tissues.  The Derma Stamp is combined with a multi-award-winning AQ Hair Complex. (Growth Factor Induction Therapy)
What should I do before the treatment?
Wash and dry your hair as usual!
What results can I expect?
Most patients notice visible growth after the first 5 sessions. Full effect may take up to three months (15 weeks) due to the Growth Factor Induction Therapy that stimulates healthy follicle conditions, promoting thickness and growth.
How many treatment sessions do you recommend?
A course of 5 treatments, once a week is recommended x 2 with 5 weeks in-between.  Once you have completed your initial 10 x treatment course, you will benefit from having occasional follow-up treatments to maintain the results.
Is AQ GFIT Hair painful?
The treatment is well tolerated. We normally don't use a topical numbing agent.
Will I need pain pills afterwards?
There is typically minimal to no tenderness after the treatment. Typically patients don't need post-treatment medications.
Can I use the serum by itself without Derma-stamping?
YES, it has a dual functionality meaning the serum can be used by itself also – although better and quicker results with Derma stamping.
Can I colour my hair still?
Hair colouring should be avoided during each 5-week course.
What should I expect and do after a treatment?
Patients should be vigilant with their homecare product usage.  The result is affected by patient compliance.
Do not wash or touch the scalp for 24 hours following your treatment
Avoid the application of any products following the treatment for 24 hours (Use a non-stimulating, sulphate-free shampoo and conditioner)
THE TREATMENT
(IN CLINIC)
0.75mm – 1. mm Derma stamp (a handheld device with 140 small titanium needles) or micro pen is used to create channels into the scalp for growth factor delivery.  AQ Hair Complex plus is applied.
5 treatments, 1 week apart x 2 with a resting period of 5 weeks in between.  15-minute treatment, no downtime.
AQ HAIR COMPLEX
The AQ Hair Complex is used for GFIT (Growth Factor Induced Therapy) treatments of the scalp.  It is a pharmaceutical-grade, hormone-free growth factor formula that is safe for men and women.  It is designed to nourish the follicle, deliver growth factors and nutrition to the scalp, and restore damaged follicles by promoting increased circulation.  The result is improved hair quality, texture and growth cycles
THE HOME TREATMENT
Use AQ Hair Complex after GFIT at home as per your AQ-certified practitioner advice (1ml every second night, massaged for 10 minutes, in between weekly treatments)
The AQ Advanced Hair Complex can be used as a regular treatment for hair loss without the treatment in a clinic, by using the product at home.  1ml to be used every second night by massaging it into the scalp.
Bookings/inquiries
+27 012 460 4646
CELL (ONLY IF TELEPHONES ARE DOWN)
+27 078 955 1256
ACCOUNTS
+27 012 460 6389